| | |
| --- | --- |
| Share this with your friends | |
12-24-2009, 09:25 PM
i want this blower for all the snow were getting here in mn
---
i was looking at blowers for my polaris. since were getting almost 2 feet of it. and if it keeps up like this the rest of the winter i may have to get a blower. i found this one on craigslist. but its to far away. i like the way its built. everything isent mounted to the front like most others. saves weight. not as long.
any one know if there still made?
SNOW BLOWER FOR ATV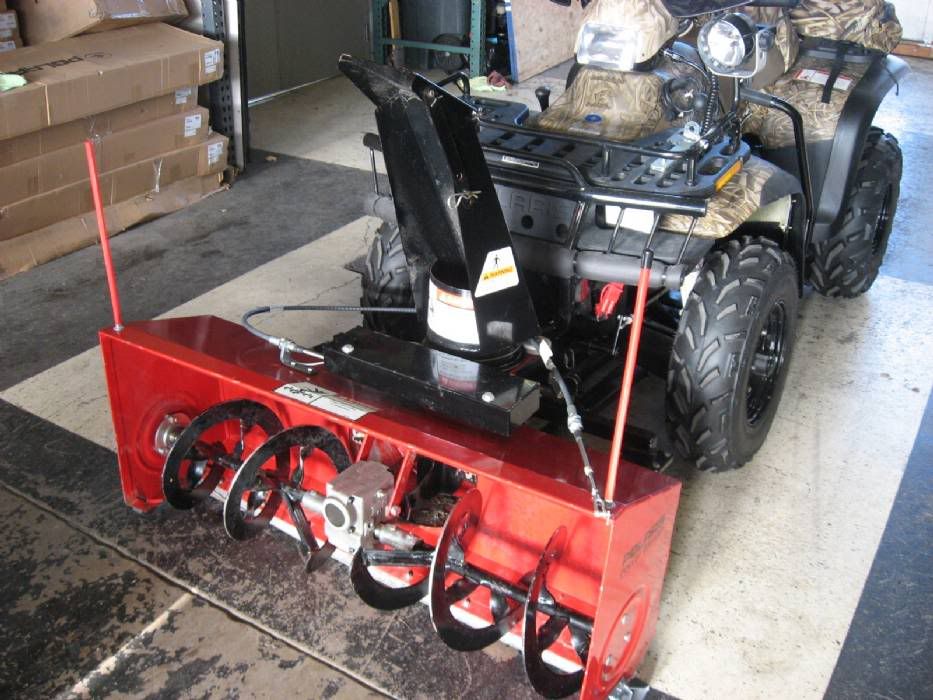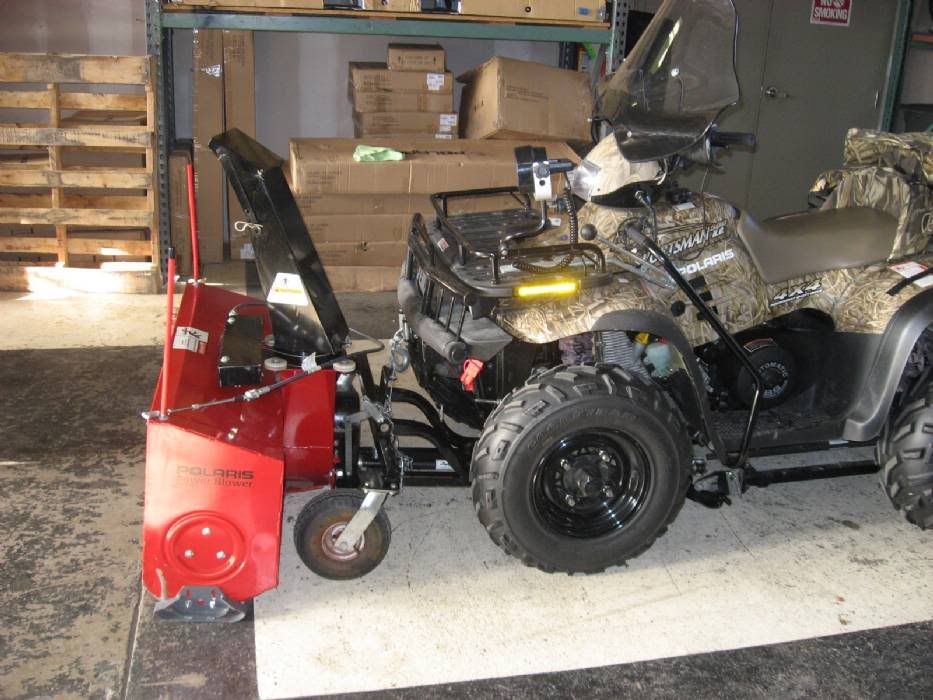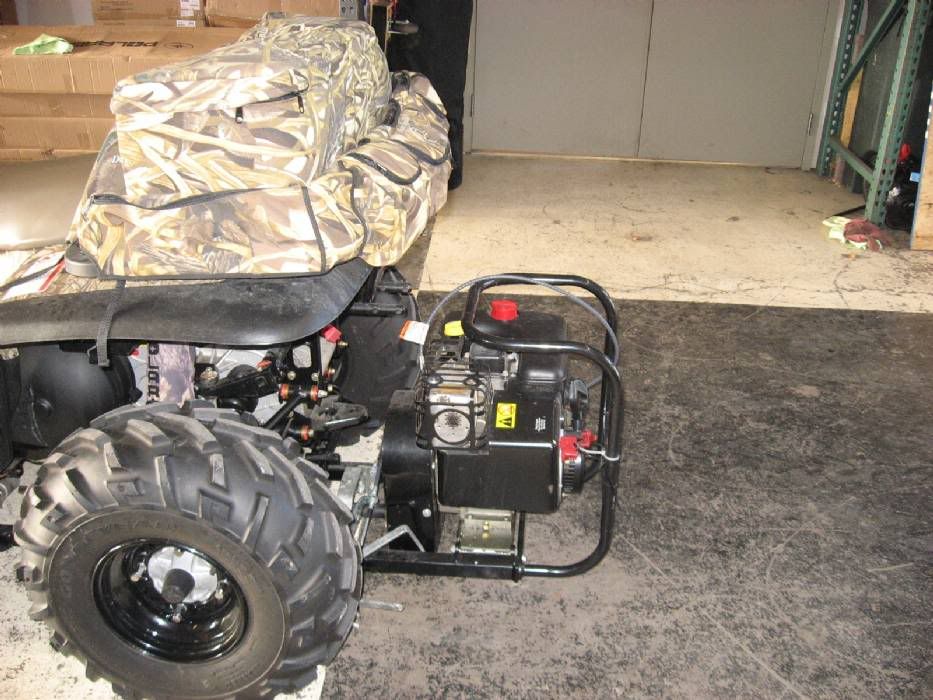 __________________
2008 polaris sportsman 500ho carb(cash paid)
home made 54" snow plow, 3000lb warn winch, winch grill cut out "cut by me", 8 911ep led warning lights & ls12, LED taillights & work lights, front bumper, K&N air filter, P-X-T tires & alum rims(summer), 489 & steel rims(winter), hand/thumb warmers, RotopaX fuel packs, 4x8 trailer w/LED tail & maker lights, custom made lock & ride fimco boom sprayer, lock & ride tall windshield. got my auto reverse lights made and installed.
Sponsored Links

12-24-2009, 10:14 PM

---

Nice rig. I haven't seen that on Polaris' site though.

__________________
What can be said of this mystery we're in? I have only one answer to give,
If Jesus didn't die to be the Savior of my soul, truly, I do not want to live.
For what would living be without a meaning and a hope?
Precious little more than just some cruel cosmic joke.
It's like being all dressed up and there was never even anywhere to go...

2012 Can-Am Outlander Max 650 XT-P
2009 Can-Am Renegade 500 (Sons)

12-24-2009, 10:59 PM

---

that's quite the contraption, but it sure looks like it would work great

__________________
Tyler

Mine-07 Sportsman 700 EFI
Dad's-04 Honda Foreman Rubicon
08 GMC Sierra 1500
16' Custom Trailer

12-25-2009, 12:44 AM

---

Yea thats a serious setup for sure! I would hate to ask the price on that bad boy!

R'

12-25-2009, 01:27 AM

---

Quote:

Originally Posted by

RticKwad

Yea thats a serious setup for sure! I would hate to ask the price on that bad boy!

R'

actuly it isent that bad. i bet cash would talk and could get another $300 or so off the top of the price. if i had a few more driveways and sidewalks to do here in mn. it pay for it self in a matter of a few days. id evon consider haveing it shipped to me. thats if the price were right. but as of right now i only have 3 drives to do. takes me about 3hrs to drive to them. wit drive time and so on. think id need a bit longer trailer.

i rember seeing a blower simalar to this in polaris flyer a few yrs back they had. but dont rember how long ago. but evon still i still like the idea of not haveing the motor and what not in front....

about $1300 is the asking price. 50hrs i beleve i read. the link is just above the top pic...

__________________
2008 polaris sportsman 500ho carb(cash paid)
home made 54" snow plow, 3000lb warn winch, winch grill cut out "cut by me", 8 911ep led warning lights & ls12, LED taillights & work lights, front bumper, K&N air filter, P-X-T tires & alum rims(summer), 489 & steel rims(winter), hand/thumb warmers, RotopaX fuel packs, 4x8 trailer w/LED tail & maker lights, custom made lock & ride fimco boom sprayer, lock & ride tall windshield. got my auto reverse lights made and installed.

---

Last edited by chuck_raduenz; 12-25-2009 at

01:27 AM

. Reason: spell error

12-25-2009, 01:36 AM

---

you know i bet you could almost take the front wheel frame off the blower and just lift it via a winch.

__________________
2008 polaris sportsman 500ho carb(cash paid)
home made 54" snow plow, 3000lb warn winch, winch grill cut out "cut by me", 8 911ep led warning lights & ls12, LED taillights & work lights, front bumper, K&N air filter, P-X-T tires & alum rims(summer), 489 & steel rims(winter), hand/thumb warmers, RotopaX fuel packs, 4x8 trailer w/LED tail & maker lights, custom made lock & ride fimco boom sprayer, lock & ride tall windshield. got my auto reverse lights made and installed.

12-25-2009, 02:31 AM

---

I think those were made my Kimpex for Polaris. I've seen them before. I think the one I seen was way over 2 grand.

12-25-2009, 05:14 AM

---

they were actually over $3,000 and they did make them a few years ago and they worked really well. heres one i found, better sit down before you look at the price lol.

Prestige 54" Snow Blower for ATV | ATV Snow Blowers

__________________
02'polaris sportsman 500 "freedom"
05' polaris scrambler 500
07' yamaha vstar 1300
10' massey ferguson tractor

12-25-2009, 08:29 AM

---

if i were closer i'd return every Xmas gift and buy that in a heartbeat!!!

__________________
2009 Red 550 XP w/ EPS
Polaris Hand/Thumb Warmers w/ Hand Guards; Front and Rear Lock and Ride Storage Boxes - Rear Rack Extender; ATV GURU Front and Rear Brush Guards; Warn RT30 Winch w/ Wireless Remote; Garmin Oregon 400t GPS w/ RAM Mount; Rotopax Mount w/ 2 gallons mounted to Guru Rear Brush Guard

12-25-2009, 10:33 AM

---

That would be way nicer than having to blow and trying to find places to put the snow

| | |
| --- | --- |
| Share this with your friends | |




Tags
250cc, 4x4, atv, berco, bercomac, blower, blowers, craigslist, polaris, prestige, scrambler, search, snow, snowblower, terrapro, yamaha





Currently Active Users Viewing This Thread: 1

(0 members and 1 guests)

| | |
| --- | --- |
| Thread Tools | Search this Thread |
| | |




| | |
| --- | --- |
| Posting Rules | |