Share this with your friends
11-16-2011, 04:30 PM
Loncin 50cc Quad Info
---
This is the first time i have bought a quad. Its for my sons Christmas. I bought it off ebay as spares or repair for £160. I know its Chinese and might be hard to get parts for, dident want to spend around 500 for LT 50 incase he doesent take to it. Anyway i have a few questions for you guys so here goes.
Have any of you heard of Loncin? I cant find anything, not even pics like it It looks like a kazuma copy.
I cant find a VIN number on the frame, Should there be? There is an Engine number lc139fmbdy158570. It says on site it should be 17 characters. So all i know its Chinese and is year 2000, Which is hard to belive as it looks great.
I have changed the oil, It was very thin and smelt strong of petrol, From what i have read worst senario would be the rings, but think it may been my fault lifting the quad straight up or fuel cut off left open unsure. Would it be correct it only take 1/4 ltr of oil, around that amont was drained and that amount went in, Dipstick is level is right. I have used 10w 30 is that ok?
I also need two new foot gaurd as the ones on it have broken. They look exactly like the Kazuma ones, Although the Kazuma right side has hole for the brake, Not to bothered about that, should they fit? Not sure if i could get originals.
C50-8301004 - Foot guard RH
Is there someont that would have parts fo this quad?
Sorry about quality of pics, cant copy them off ebay and the quad is stripped, had to take pics on the pc screen.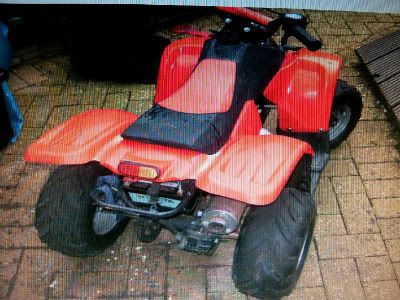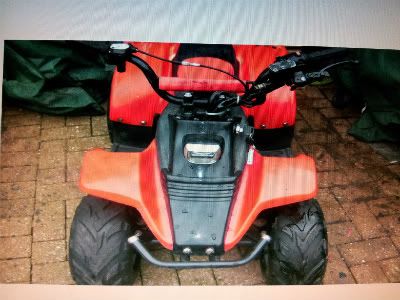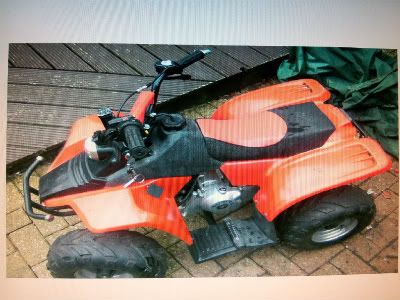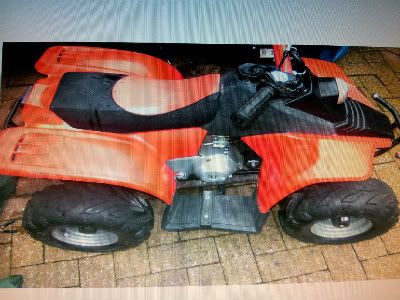 Look forward to you're replys.
Sponsored Links

11-17-2011, 10:59 AM

---

Sorry about size of pics, unsure how to edit.

11-17-2011, 12:53 PM

---

Thanks for that, I couldent find a Loncin dealer. I have contacted them and gave them the engine number. Think that ATV must be the newer model.

05-21-2012, 05:29 PM

---

i have just bought one od these from ebay, which was running ok, but after a few outings wouldnot start. i just heard one click coing from the solenoid, but tried to short it and nothing, so i put it to a garage just to identify the problem. and if thestarter motor needed replaced i was going to do it mytself. however this garage said they would need to hold onto the bike as they didnt have time to look while i was there so i left it there for a day or two, then i phoned and they said that they had removed the starter and the engine seemed a bit stiff to turn and would need moer time. anyway they got the bike runing and i could pick it up,so , the mechanic said he was not sure what the problem was? but the engine had freed itself when the did something? andthen it started ok, anyway then he said he tightened a few other bolts etc. pumped tyre up, i went to settle the bill and was astounded when told that he spent 2 and a half hours on it and it was going to be £135....... . can this be right? for a apparantly simple job .. i only paid 160 for the quad, so was a bit pissSpam wordSpam word Spam wordSpam word Spam wordSpam word Spam wordSpam word Spam wordSpam word Spam wordSpam word Spam wordSpam word Spam wordSpam word  off.

05-21-2012, 07:07 PM

---

Quote:

Originally Posted by

cam147

i have just bought one od these from ebay, which was running ok, but after a few outings wouldnot start. i just heard one click coing from the solenoid, but tried to short it and nothing, so i put it to a garage just to identify the problem. and if thestarter motor needed replaced i was going to do it mytself. however this garage said they would need to hold onto the bike as they didnt have time to look while i was there so i left it there for a day or two, then i phoned and they said that they had removed the starter and the engine seemed a bit stiff to turn and would need moer time. anyway they got the bike runing and i could pick it up,so , the mechanic said he was not sure what the problem was? but the engine had freed itself when the did something? andthen it started ok, anyway then he said he tightened a few other bolts etc. pumped tyre up, i went to settle the bill and was astounded when told that he spent 2 and a half hours on it and it was going to be £135....... . can this be right? for a apparantly simple job .. i only paid 160 for the quad, so was a bit pissSpam wordSpam word Spam wordSpam word Spam wordSpam word Spam wordSpam word Spam wordSpam word Spam wordSpam word Spam wordSpam word Spam wordSpam word Spam wordSpam word Spam wordSpam word Spam wordSpam word Spam wordSpam word Spam wordSpam word Spam wordSpam word Spam wordSpam word Spam wordSpam word Spam wordSpam word Spam wordSpam word Spam wordSpam word Spam wordSpam word Spam wordSpam word Spam wordSpam word Spam wordSpam word Spam wordSpam word Spam wordSpam word Spam wordSpam word Spam wordSpam word Spam wordSpam word Spam wordSpam word Spam wordSpam word Spam wordSpam word Spam wordSpam word  off.

Tell me about it. I dont go to garages, I do all my own stuff. The quad i bought was £160 i have spent over £100 trying to get it running, I wish i never bought Chinese, It is a nightmare. My advive to anyone is DO NOT BUY CHINESE QUADS/BIKES.The starter went on this quad also,The magnets inside had unstuck fro the casing.I have just bougt a new stator and got told its still not puting out right voltage, Bought another regulator, Doesent work I ave even contacted Loncin, and never replyed back. This quad is so usless am going to sell it and get my son a decent quad. Im in Scotland , Nobody around here supplys chinese parts. I know thw Kazuma you can get parts online no problem and the Suzuki LT50 and LT80 are a favorite but can cost Around £500 for 10 year old model

05-22-2012, 07:59 AM

---

if you don't mind turning a wrench and have patience, the chinese quads are a cheap mode of entertainment. parts are cheap too. the patience part comes in with the troubleshooting. not throwing parts at it. tell me something, if your car breaks down, do you throw parts at it or do you figure out what the problem is and then fix that? yep, quads are the same way, IT'S A VEHICLE!!!!!!!!! stator=alternator, voltage regulator,CDI, rectifier, battery, starter. yep, it's all there. you, my friend, need a multimeter/ohm meter so you can troubleshoot the issues when they arise. read LYNNEDWARDS' posts in the chinese sections for his testing advice or POST your electrical "NO START" issues. it's either mechanical like valves/compression/fuel delivery or it is electrical such as no spark and such.

now earlier on your post, it almost sounded like the battery was too low on voltage to not fully engage your starter. but if you found magnets that were stuck, great, at least you found them. this forum can save you buttloads of money from a shop if you have a meter and some patience. good luck!!!!!!!

__________________

III John 4

if it's worth doing, it's worth doing right the first time.

never play another man's game, you'll always lose.

05-24-2012, 03:43 PM

---

Yes thanks for that . I have learnt an expensive lesson there

05-24-2012, 05:22 PM

---

i got into the chinese quads because i wanted to learn how to work on quads. my japanese quads never broke down and i wanted to know what to do and how to do it when and if they fail me. well, i've had several chinese quads in the past now. i am still learning to work on them, have had several and sold several. they've taught me a lot and i don't mind turning a wrench or using my multimeter. it is practically a hobby now along with this forum. i still learn everyday. chinese quads ain't for everybody, but i do enjoy them. as stated before, i also like my japanese models also. to each his own.

. P.S. i do have an Eton at the time of this report.

__________________

III John 4

if it's worth doing, it's worth doing right the first time.

never play another man's game, you'll always lose.

05-25-2012, 12:08 AM

Electrical Expert
Likes High Voltage In The Tub!

Garage is empty, add now

Join Date: Dec 2008

Location: Tracy, California, USA

Posts: 3,229

---

Chinese quads are not for everybody for sure. I've enjoyed mine, but I'm not the average person. I have a decent machine shop in my garage (lathe, mill, saws, welding equipment) and a full electronics lab too. Too often people get sucked into believing that Chinese quads are just cheaper version of the main brand quads. They aren't by any stretch of the imagination. But if you have the skills (or can learn them), chinese quads are a viable alternative if you are interesting only in casual ATV riding (no jumping, or high performance stuff).

Tyrone81's problem is really stuck in my craw (it's all on another thread nearby). I wish we were close by to each other instead on different continents. It really has me puzzled...

Share this with your friends




Tags
50cc, atv, atvs, find, inloncin, kazuma, loncin, loncion, numbers, oil, parts, problems, quad, stator, vin





Currently Active Users Viewing This Thread: 1

(0 members and 1 guests)

| | |
| --- | --- |
| Thread Tools | Search this Thread |
| | |




| | |
| --- | --- |
| Posting Rules | |