After a few weeks of searching and asking questions ive found the following links to be useful.
http://forums.atvconnection.com/2915057-post8.html
(wiring diagram acurate for monsoon/yerfdog)
http://www.bmikarts.com/PDF/23000.pdf
(exploded views and parts list)
90cc yerf dog atv
(parts)
90cc Engine Parts : BMI Karts & Supplies : Go Karts Parts : Racing Go Kart Parts : GoKarts : Versailles, Ohio : USA : Indoor Track : Tips
(more parts)
These quads are kinda oddball but parts are out there. The engine is the same as a 90cc Yamaha jog. And it was also used on a polaris youth model.
This is how to wire in a generic 5-pin china CDI and coil: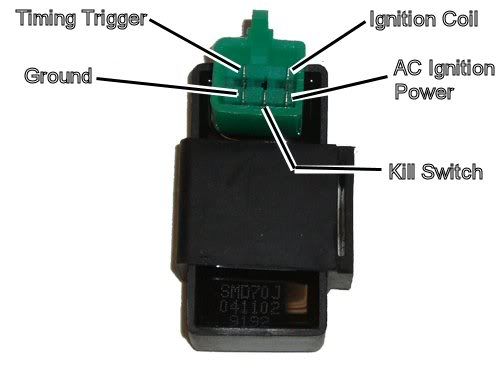 Using the above picture i wired the cdi to the stator harness as follows
(on atv) Black with Red stripe / AC Power (on cdi)
(on atv) White with red stripe / Trigger (on cdi)
(on atv) Ground / Ground (on cdi)
(on atv) Orange / Coil (on cdi) (here i reused the mounting point and wire running to the factory coil (orange wire)
I then wired a toggle switch from ground to the kill switch prong on cdi to turn the quad off.
This is the CDI module i used:
CDI Box, One Plug, 5 Pins for 50-110cc ATV, China Parts - eBay (item 160553654283 end time Mar-08-11 21:36:32 PST)
This is the coil i used:
Ignition Coil China ATV Dirt 50cc 70cc 90cc 110cc 125cc - eBay (item 190463975877 end time Apr-01-11 20:55:03 PDT)
Hopfuly this will save you some time and get youre quad running!