I watched the video. Yikes...
(I really did enjoy it. It was entertaining to say the least...
)
OK.
You first need to find out how your quad ignition system is wired. It is either DC powered or AC powered. Here is the procedure:
Quote:
The 2 plug 6 wire CDIs come in two different designs. One is powered off 12 volts DC, and the other is powered off a moderately high voltage AC which comes from the stator. Unfortunately there is no reliable way to tell the difference between the two by just looking at them. To be sure you need to use a meter to find out which you have:




1) Unplug the CDI, and turn on the ignition. Do not crank the starter motor. Use a meter to measure the *DC* voltage on the pin labeled "AC ignition power" in the wiring harness to both ground pins in the 4 pin CDI connector. If you measure 12 volts DC then you have a DC powered CDI.


2) If you don't measure 12 volts DC on the ignition power pin, then switch the meter over to measure AC volts on the 200 volt scale. While cranking the starter motor, measure the AC voltage on the "AC Ignition Power" pin to the the Ground pin. You should see 40 to 80 volts AC. If you measure AC voltage when the starter is turning then you have an AC powered CDI.


Using a meter is the only 100% reliable way to figure out if your CDI is AC or DC powered. But there are some clues you can use that are usually (but not always) correct:


A) DC CDIs tend to be a little larger than their AC powered counterpart. This is because the DC powered CDI needs a bunch more circuitry to convert the 12 volts DC to the moderately high voltage supply that all CDIs must have.


B) Most (but not all) DC powered quad ignition systems do not use the kill switch input pin. The CDI connector pin usually has no wire tied to it. AC powered quad ignition systems usually do use the kill switch input pin.
I suspect you'll find out that your CDI needs to be DC powered. But check it to see for sure...
Next:
You made some comments in your video about "bypassing the ignitor coil in the magneto". Lets make sure that we are talking the same terms here. There are one or possibly two coils in the stator that have to do with the ignition system. One coil is the small pickup coil mounted outside the flywheel. This generates a timing signal that tells the CDi when to fire. It is absolutely necessary and cannot be bypassed. The other coil is inside the flywheel and generates a moderately high voltage AC signal to power an AC powered CDI. This is not required if you have a DC powered CDI. And you can fairly easily rewire an AC powered quad to work with a DC powered CDI if you decide to switch over. But this is not for everybody. It involves wiring, which for many people is equivalent to undergoing eye surgery.
To repeat: 6 pin CDI's (2 and 4 pin connectors) can be DC powered and they can be AC powered. You've got to get the right one or it either won't work, or it will come apart (as you so eloquently showed in your video
)
Now for the 5 pin CDI's versus the 6 pin CDIs:
I've taken a few of these apart and traced out the circuitry. Although 6 pin CDIs can be DC or AC powered, 5 pin CDI's are *always* AC powered.
If you compare the internal circuitry on a 6 pin AC powered CDI to a 5 pin CDI (shockingly) they are exactly the same. Here it is:
First the AC powered 6 pin CDI:
Now for the 5 pin CDI (which is always AC powered):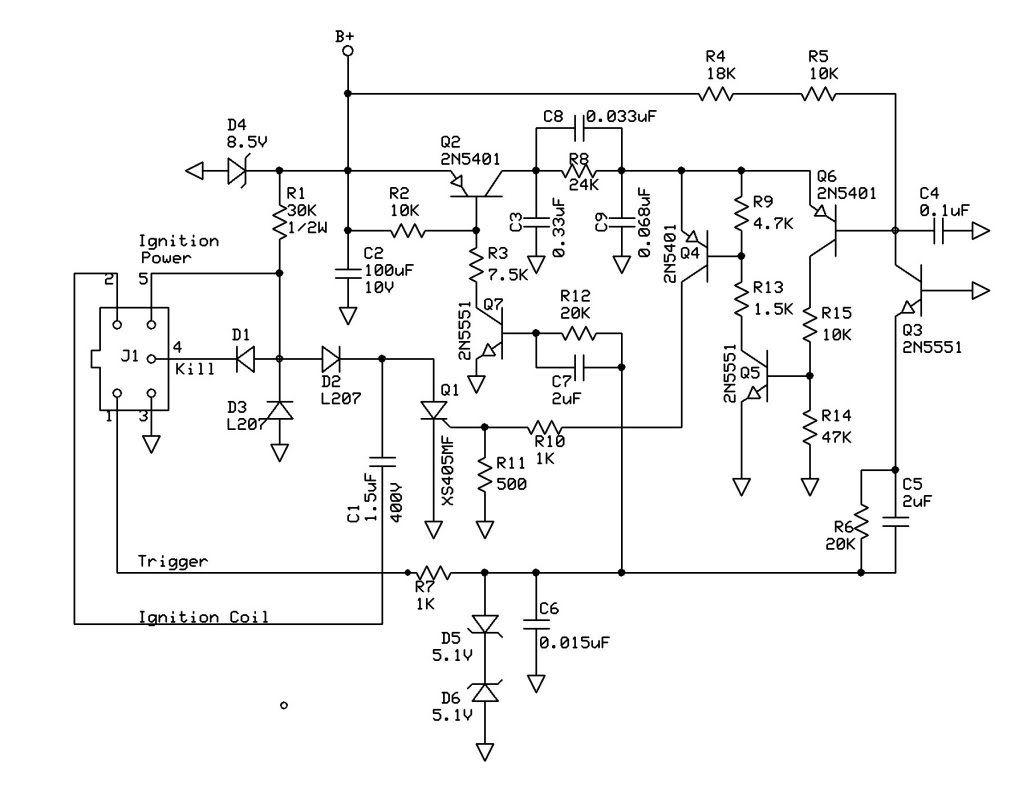 Note how it is exactly the same
(except for the connectors of course).
Disclaimer: I know that the designs above are not the only CDI designs out there. I know this because I have seen other waveforms on the input/output pins of the CDi then the ones I've seen on the circuits above. And I have not taken any of those apart. So I don't know all the answers. But the ones above are the most common by far.
I think I have a youtube account, though I don't remember my account name or password. If I can dig it up I would like to reply to your video and direct them to this site (if they will allow it) so all can continue the discussion. But please don't take offense if I disagree on some points. I'm not criticizing you at all- I love the idea of free information exchange. I'm wrong all the time, and I may still be wrong here (but I don't think so). But fear of being wrong doesn't stop me. I post, and if I'm wrong the error gets corrected. The knowledge base grows and we all go on.
Your video will go a long way to expand the knowledge base...